Replacing the TLS certificate on a Synology NAS via the command line
Yesterday was the day that the TLS certificate of my Synology NAS expired. And since I have no monitoring to alert me, I only found out today. The bad news: HSTS was also enabled so my browser did not want to connect, even though I told it to ignore the invalid certificate. The good news: the SSH service was enabled. This allowed me to fix this situation via the command line interface (CLI).
Before I dive into what I did to resolve the situation:
I am running DSM version 6.2.3 on a DS216+.
There might be better ways to resolve this, but I could not find any within a reasonable time.
The process of requesting or generating a new certificate is out of scope for this article. And if you are in the same situation as I was (with an expired certificate installed on the device), the "get a new certificate" part is probably something you have dealt with before. In my case I generated my own certificate signed by my own CA.
After obtaining the new certificate I could:
Use scp to copy the new certificate and the private key to the NAS.
SSH into the Synology.
Change my directory to /usr/syno/etc/certificate/system.
Update the relevant files, both in the FQDN and default directory, with the new certificate and key (details below).
Reboot the NAS.
Now for the details about the files. Both the default directory and the FQDN directory contained the same files:
cert.pem: the certificate itself (in my case the certificate + intermediary)
chain.pem: the certificate chain (in my case the CA certificate)
fullchain.pem: a concatenation of the files cert.pem and chain.pem
privkey.pem: the private key
Since the script I use to generate my certificates outputs the certificate plus intermediate, I guess that's what I used in the web interface when I uploaded my certificate a year ago. I decided to do the same this time since it had been working so far.
After the reboot the web interface was using the new certificate and I could access the NAS again with my browser. But according to the control panel, I was still using an expired certificate.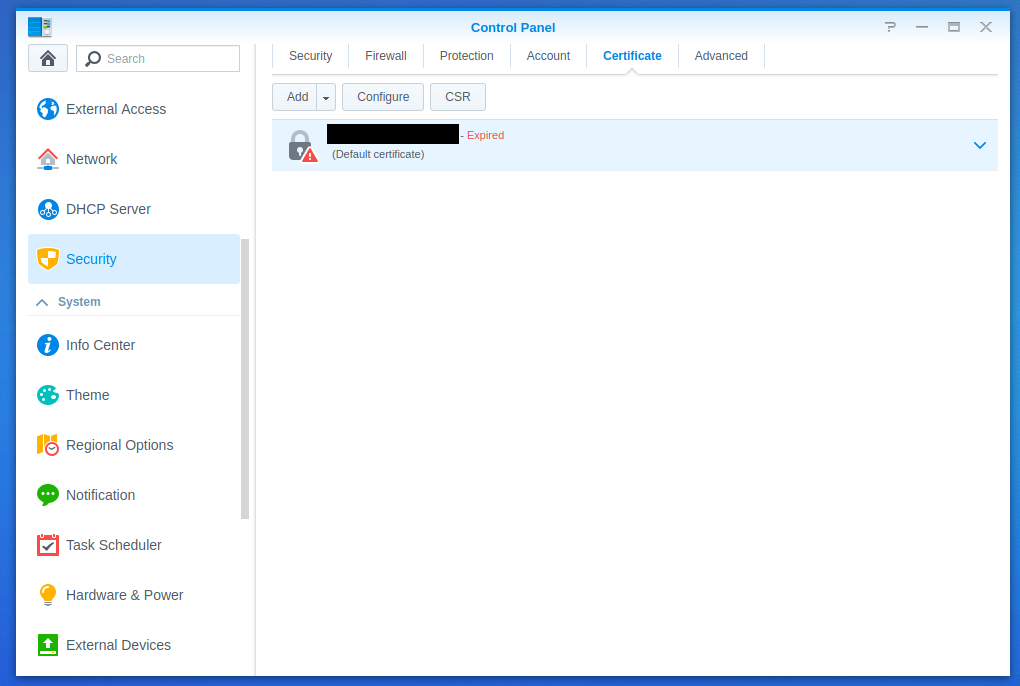 So as a last step I updated the certificate via the web interface and after that everything was working again.